I first came across the Lucet in 1992 whilst playing the part of a wounded 17c soldier in the Whitefriars Museum in Coventry. Of our troupe two of the chaps were from a medieval society and one evening, in camp, I saw them using a Lucet… They taught me the Lucet in ten minutes flat. On the way home on the mini-bus I luceted a piece of wool I had acquired from somewhere, and when that ran out, unravelled it and started again, and again!

Two weeks later I was making arming points for a costumier friend out of unbleached linen thread, tough going, strong cord. I made cord for him for nearly a year and in that time started to redesign the Lucet. The one I had copied from the two medieval players was fairly thin with a straight handle and curly forks. It made my hands ache especially with using the heavy linen thread. I made about ten different shapes in my workshop before I came up with 'IT', the bee's knee's of Lucets, straight forks with blades, long shoulders, tight waist, turn button…a significant modification as it balances the Lucet and helps it turn in the hand…fast!

Having made the master I started producing them in my workshop by hand. The first year I made about fifty and took them to one of the English Civil War events (of which I was a member) and they were well received. I started to make more and went up and down the country to Civil War events selling Lucets and teaching people how to use them but was forever losing the loops off the top of the forks, even with 'laccy bands wrapped on they still came off in transit so… I invented a bobbin.

The bobbin carried a whole skein of perle cotton (25mtr) and when you wanted to stop you wound up the excess thread and slid the bobbin over the forks of the Lucet to lock it, simple, wonderful, best thing since sliced bread!

That was it for a couple of years, Lucet and Lucet Bobbin both did well, until the summer of 98 when I started a new job. I had to commute by train and discovered fairly soon that trying to read on the train gave me a headache or trying to snooze gave me a crick in the neck so… took my Lucet! It was great, I got loads done, then one day in June, on a clear blue day, there was a great big bolt of lightening (metaphorically speaking). I was running two bobbins to make a thick cord with two colours when I discovered that I could use the bobbins as shuttles, to separate the threads so that I could lucet them independently and create…a buttonhole…

I made lots of buttonholes, big ones, small ones, two tone ones! Then came the names… 'Crossover parallel' , 'Kisscord', 'Double Interlock', 'Spider Ladder', Bavarian Twist' and suddenly luceting took on a whole different persona. I started running four, five and six bobbins, in all directions, including three dimensions. I then wrote the Advanced Luceting Book and joined the Braid Society. Since then I have been up and down the country, demonstrating at the Knitting and Stitching shows, teaching, and manufacturing Lucets.

In 2003 The Lucet Co started producing high quality, ABS plastic Lucets and bobbins, which are super…even if it did take eleven years!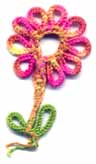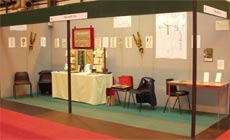 Back to Top

Z.Rytka, 27 Bowman Place, Hanson Lane,
Halifax, West Yorkshire, HX1 5PD, UK. - 01422 348096